Description
Specially designed for (FireBeetle 2 series M0 ESP32-E), this Gravity IO expansion shield offers various ports including digital, analog, I2C, UART, SPI, etc. Also, it comes with a power input socket for connecting the external power supply as well as EN pin for cutting off the power supply to the main board.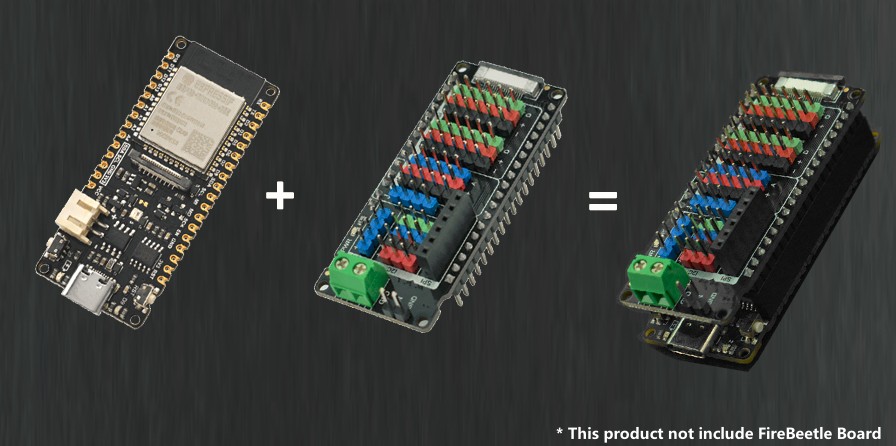 The Gravity IO shield allows a convenient connection between DFRobot Gravity sensors and FireBeetle 2 series, no soldering required.
Note: This expansion board is specifically designed for FireBeetle 2 controllers series M0 ESP32-E, not suitable for the original FireBeetle Series.
SHIPPING LIST
Gravity: IO Shield for FireBeetle M0 and ESP32-E x1
FEATURES
All pins were brought out, no soldering was required
Supports various Gravity Sensors and Modules
3.3~5.5V PH2.0 power port, applicable to portable projects
GDI interface for connecting DFRobot GDI series
APPLICATIONS
Allows a convenient connection between DFRobot Gravity sensors and FireBeetle 2 series
SPECIFICATION
All pins brought out onto female headers
Digital IO x12: GP0-3, GP5-7, GP9-13
Analog IO x5: A0-A4
UART x 1
I2C x 3 (In Parallel)
SPI x 1
PH2.0 Power Port: 3.3V~5.5V
Screen: GDI
Dimension: 60 x 25.4mm/2.36 x1"
DOCUMENTS