Description
This robotic kit includes a stepper motor and driver that are ready to use. the 28BYJ-48 motor is a 5V high torque stepper motor with even more than 2000 steps per revolution. Its torque is sufficient to operate miniature robots. With the ULN2003 driver module, you can simply operate the 28BYJ-48 stepper motor from an MCU like the Arduino Uno. The motor can be linked with a gear shaft and propeller. The stepper motor cable has a 5-wire socket on one side of the board, which also has four LEDs to show which coil is powered at any one time. It always helps that the motor cable only has one direction of travel. You have a motor on/off jumper on the side you should keep it on to enable power to the stepper.
Specifications of the Driver Module:
Chip: ULN2003A
Voltage: 5- 12V power supply
LEDs: onboard 4-way signal lights
Socket: the onboard XH-5P socket can be directly connected with the 28BYJ-48 stepper motor
Specifications of the Stepper Motor:
High-quality stepper motor
Voltage: DC 5V
Diameter: 25mm
Step Angle: 5.625 x 1/64
Reduction Ratio: 1/64
Rated voltage: 5VDC
Number of Phases: 4
Speed Variation Ratio: 1/64
Stride Angle: 5.625° /64
Frequency: 100Hz
DC resistance: 50Ω±7%(25℃)
Idle In-traction Frequency : > 600Hz
Idle Out-traction Frequency : > 1000Hz
In-traction Torque >34.3mN.m(120Hz)
Self-positioning Torque >34.3mN.m
Friction torque : 600-1200 gf.cm
Pull in torque : 300 gf.cm
Insulated resistance >10MΩ(500V)
Insulated electricity power:600VAC/1mA/1s
Insulation grade: A
The rise in Temperature <40K(120Hz
Noise <35dB(120Hz,No load,10cm)
Model: 28BYJ-48
Pinout Of the Module: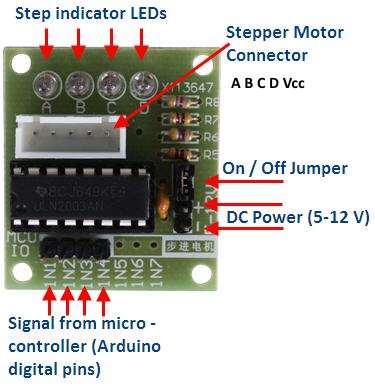 IN1 – IN4 pins are used to drive the motor. Connect them to the digital output pins on the Arduino.
GND is a common ground pin.
VDD pin supplies power to the motor. Connect it to an external 5V power supply. Because the motor draws a lot of power, you should NEVER use the 5V power from your Arduino to drive this stepper motor.
Motor Connector This is where the motor plugs in. The connector is keyed, so it only goes one way.
Package Includes:
1x ULN2003 Driver Module
1x 5v Stepper Motor